Corner Co-op: "A special place for children, parents, & families."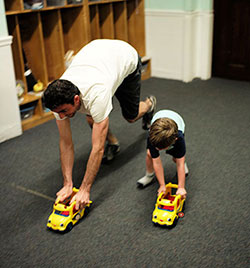 We are a cooperative school. Our philosophy, goals, policies, programs, budget, tuition, staffing, and activities are governed by the parents and teachers. The Co-op gives us a special window into our children's preschool experience: we watch them grow and develop, and they know we are invested in their school. We welcome families' involvement in the Co-op and encourage families to participate in any way that works for them.
Inherent in the cooperative is a spirit of community that cherishes each individual and what they bring to the group. We build this spirit throughout the year with pot luck dinners and picnics, speakers and workshops, outings and camping trips, and informal interactions and friendships among families.