Corner Co-op: "A special place for children, parents, & families."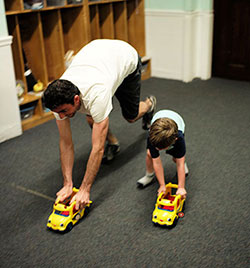 We are a cooperative school. Our philosophy, goals, policies, programs, budget, tuition, staffing, and activities are governed by the parents and teachers. The Co-op puts us in close contact with our children's nursery school experience. We are able to watch our children grow and develop. Our children know we are concerned and involved with their school. Parents support the Co-op by assisting in the classroom once a month and performing a family job.
Inherent in the cooperative is a spirit of community that allows for individual strengths and weaknesses, for family crises or illness, or for differences in energies or commitment. We enhance this spirit throughout the year with pot luck dinners and picnics, speakers and workshops, outings and camping trips, and informal interactions and friendships among families.