A Day at the Co-op
Our days at Corner Co-op follow a flexible routine, allowing children to experience the reassurance of a routine along with the freedom and flexibility to make choices, test their independence, and simply enjoy their play. Parents, caregivers, and siblings are welcome in the classroom, creating an open, home-like atmosphere.
Drop-off
Parents, caregivers, and other family members are welcome to remain at the Co-op as long as the Co-op child needs them to stay. It may be a quick good-bye for some families; others are welcome to help their children transition at their own rate. Groups of children, adults, and teachers can be found chatting, playing, or reading during the morning and throughout the day. This flexibility helps many families introduce their children to the Co-op in a relaxed, stress-free way.
Morning Meeting
Everyone is invited to attend our morning meeting. We introduce themes such as the calendar and the weather, and have show-and-tell. We also discuss our routine for the day, which may include activities such as crafts and projects, outdoor time, and special events such as birthdays. Children also have the choice of being in the block room if they want to be engaged in a different activity.
Play
Play is our central approach to learning. We have a large space that includes multiple rooms, and children can be found listening to music and dancing on our "welcome rug," reading on a comfortable couch in our quiet room, playing with play-dough, and painting and drawing in our art area. We have a "block room" filled with blocks, wooden trains and tracks, and dollhouses for building and imaginative play, and a dress-up area with clothing and costumes of all kinds. We also have a vermicomposting bin with worms for the children to care for. Teachers and parent helpers supervise and connect with children as they are needed.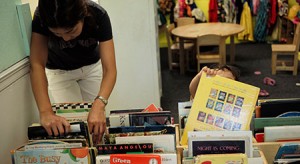 Story time
Children can be found reading with teachers, parent helpers, and other family members who may be visiting the Co-op throughout the day. We often have a group storytime right before snack.
Snack
We ask each family to pack their child a healthy snack, which we will bring out for them, after we have all washed hands.  We are a nut-free school, so no nuts or nut products should be brought for snack.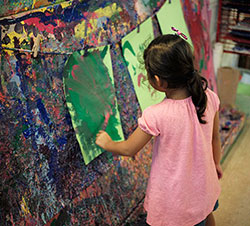 Crafts/Projects
The Co-op regularly offers children the opportunity to create crafts and participate in projects. Examples include making play-dough, woodworking, creating piñatas, and painting lanterns for our annual excursion to Jamaica Plain's Lantern Parade.
Guest Visits
We have visits from a dental hygienist and a group of Tufts University students, the Traveling Treasure Trunk, who write and perform their own plays for children. Additionally, parents often bring in their own musical instruments to play for the children. We have an extensive collection of musical instruments for children to play with, as well.
Field Trips
Our annual field trips include apple picking at Tougas Farm, a puppet show at the Puppet Showplace, maple sugaring at the Natick Community Organic Farm, participating in a nature program at the Boston Nature Center, a visit to a Fire Station, and a trip to the Big Apple Circus.
Outdoor Time
At the Co-op, we strive to foster a love and appreciation of nature. We have a courtyard area which offers opportunities for sand and water play, and we have access to a large, open fenced in area behind our building for exploration and more vigorous play.
Sing-Along and Performance
We end our mornings with either a group sing-along or a performance, in which children are invited to perform anything they wish before the group. Children dance, do acrobatics, touch their tongues to their noses, sing, tell a joke – and always have a lot of fun!