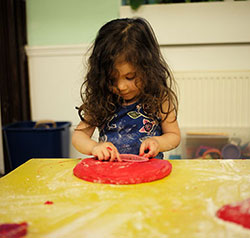 The Corner Co-op Nursery School is open to children between the ages of two years nine months and five years. Four schedule options are offered: five, four, three, or two mornings per week. Our daily average attendance is up to twenty children in the morning and up to ten children in the afternoon lunch program, depending on the day.
Children are admitted without regard to race, creed, color, cultural heritage or parent's marital status, sexual orientation, disability, or political beliefs. We highly value the strong international flavor which the Co-op has been acquiring over the recent years. Applicants, whenever possible, are accepted on a first-come, first-served basis, but an attempt is made to keep a balance in the age and the sex of the group. Families wishing to participate should understand and accept the responsibilities of being in a co-op.
Annual Tuition: 2021-2022 rates
In consideration of all that families have endured during the pandemic, we have decided to keep our current tuition the same as our 2019-2020 rates. In addition, to increase the amount of time we will have together, we have added an hour to the Morning Program, going from 3 to 4 hours for the same tuition.
(September to June, following the Brookline School calendar)
Morning Program (9:00am to 1:00pm)
2 mornings: $4,900
3 mornings: $7,300
4 mornings: $9,300
5 mornings: $11,150
Extended Day Program (1:00-2:00pm)
$22 per afternoon (enrolled)
$25 per afternoon (drop-in)
Early Drop off (8:00-9:00am)
$22 per morning (enrolled)
$25 per morning (drop-in)
Summer Program (9:00am-1:00pm)
TBD
Scholarships
Fundraisers and other donations support our scholarship fund. Interested families are asked to complete an application, which will be processed in a confidential manner by the Reverend of All Saints Parish.
Apply Now
We are accepting applications for the 2021-22 school year.
Please call us to talk together about the Co-op before sending in an application.

Please download Application and Pledge Form to Adobe Acrobat. In "Tools," select "Fill & Sign" for you. Fill it out and save it, and email it back to us.
More Information
Email us to schedule an online visit.